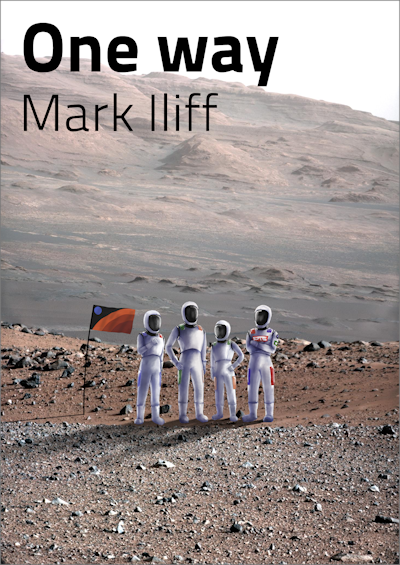 Lol, Meena, Kimi & Beau are strangers. And they're about to spend the rest of their lives together…
At last, travel to Mars is here. Private enterprise has the funds and the technology. But the journey is strictly one way.
Four people alone together in a small capsule for 8 months. Could you keep your cool in close contact with three fit adults 24×7? And do you have what it takes to create a thriving society from scratch… half a billion km from family, friends and even the nearest doctor?
Buckle in for a journey like no other.
—Contains adult themes—
Published: March 2016 / minor revisions: October 2023 ● Pages: 270
Contents
1. Farewell to Ireland
2. Farewell to England
3. A crew is born
4. Survival skills
5. Farewell to family
6. Farewell to Earth
7. Finding our space legs
8. En route
9. Diary of a spaceman
10. Building a home
11. Farewell to Mars
Website bonus
Extracts
Training (extracts)
Adapting to space (extract)
En route (extract)
Available at…

Smashwords

Rakuten Kobo

Amazon¹: Aus/NZ Can NL UK/Ire US
¹Amazon: Kindle only. Others: open format
Reviews
"I was hooked from the beginning and was gripped by the storyline"
"There are scenes that made me chuckle (learning to use a 0 gravity toilet) and scenes that made me cry (really!). And it's a long time since I stayed up very late and then got up really early to finish a book"
"The characters have stayed with me"
"An altogether believable tale of four people's search for a new way of life. … deals with the ordinary preparations for an extraordinary journey and the sexual pressure cooker of starting a life with no taboos. The conclusion brings both shock and sadness"
"This is a gloriously engaging and human book about extraordinary lives"
"The writing is laugh out loud funny as well as deeply and richly colourful and evocative"
"Well written, strong characters … and a nice turn of phrase that I enjoyed. And what an ending!"
"Moves at pace and is believable and emotionally engaging"
"Gripping, emotional, sexy and fun"